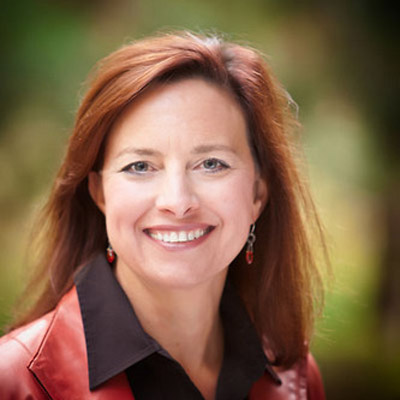 Episode 8: Mindful Marketing with Lisa Nirell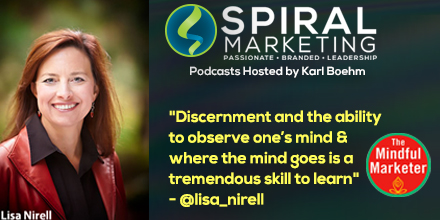 Lisa Nirell is the Chief Energy Officer of EnergizeGrowth®, helping companies to grow their mind share and their market share.
Since 1983, Lisa has worked with brands like Infor, Bozzuto, Zappos, BMC Software, Adobe, Microsoft, and hundreds of entrepreneurs in nine countries.
She has been featured in U.S. News and World Report, CMO Council, American Express OPEN,The San Diego Transcript, Women in Technology, and Computerworld
Her work has been endorsed by business luminaries such as Guy Kawasaki, Jill Konrath, Chris Brogan, Chip Conley, Seventh Generation Founder Jeffrey Hollender, Shama Hyder, and award-winning leadership coach Marshall Goldsmith. She is an expert blogger on strategic growth planning for Fast Company and the HuffingtonPost .
Lisa is also an award-winning public speaker and an author of the acclaimed EnergizeGrowth® NOW, and The Mindful Marketer: How to Stay Present and Profitable in a Data-Driven World which supports this episode's focus of Mindfulness in Marketing.
Definition
How do you define Mindful Marketing?
Staying present and focused on the task at hand without judgment.
Passion
What keeps you passionate about Mindfulness in Marketing?
Watching the transformative impact on her clients
Using rituals including a check-in process
Specifically, who were you aiming to help in your work?
Lisa noticed how Marketers were expected to perform in much more diverse way and how that pressure was taxing them.
"I set out to help them make sense of this new barrage of information that they are expected to use in their daily jobs."
Past / Background
The spark for Lisa's research on Mindfulness in Marketing began about 3 years ago.
Lisa has a story many listeners can likely identify with about changes at her employer putting her at a meaningful crossroads.
Leadership Style:
Lisa tries to ask her clients the right questions, "poke and provoke them", and deliver value.
Present Value
Some of the top skills for Mindful Marketing:
Regular rituals to discern –

What's different?
What's working?
What's not working?
For what am I grateful
What are my intentions for the coming day or week?

Lisa suggest asking yourself –

"What's different today…from last week at my job…or what's different this morning versus yesterday. These are questions that start to train your brain to learn discernment."

"Discernment and the ability to observe one's mind and where the mind goes is a tremendous skill to learn mindfulness in marketing."
Want to become a more Mindful Marketer?
Discover areas that you can become more mindful Lisa's the Mindful Marketing Meter survey www.themindfulmarketer.com/bonus
One of Lisa's favorite stories of of Mindful Marketing at work is about –
Barbara Messing, the CEO of TripAdvisor, she noticed that a lot of priorities were out of sync, the organization and employees were lacking the ability to step away from the noise and give their minds the opportunity to pause, connect and refresh. Now, she has eliminated the resistance she initially got to mindful behaviors. She's strongly discouraged people from multi-tasking, from always having their phones on, and prevents employees from using their phones or laptops during meetings for the most part. Now employee engagement scores are off the charts.
What should a day in the life of a Mindful Marketer look like?
Lisa doesn't want to put any 'should' on anyone, she just presents evidence that is has dramatically improved marketing organization and their ability to make informed and innovative choices and decisions.
…and you may want to read Lisa's The Mindful Marketer for more ideas that may resonate with you!
Research and Pragmatic applications keep the learnings coming!
Mindful Marketers exist in all industries!

It's not a wholesale change, its taking one step at a time and making small shifts -having a check-in process that takes 30 seconds before a meeting, create a breathing space and stop stacking meetings back to back.

CEO's are very interested in Mindful Marketing, many of them see themselves as leaders including Brian Halligan, the CEO of Hubspot.
Lisa teaches a class called "Leading the Mindful Marketing Revolution", students walk away identifying the "mindless marketing" behaviours that –
Create an awareness and identifying the mindful behaviours.

Outline the qualities of a mindful marketer and share examples.

Give specific actions to take in optimizing the behaviors and drill down into how language is being used to communicate Brand Value to see if its written in a Mindful of Mindless way.
Further insights and inspiration:
Lisa publishes many articles at EnergizeGrowth.com/blog and you can follow Lisa on FastCompany from www.lisafast.com. Lisa loves her community to reach out with how they are using Mindfulness in their organization.
Future
Lisa believes there will be a backlash against Big Data, evidenced by movements including Raw Food, "Slow Foods", and the new "Slow Reading" movement. There's a new opportunity for marketers to reach out to step back and communicate and engage with our customers without using technology.
Young Entrepreneurs and Baby Boomer Marketers are going to need to work together differently and do things in a new way to build businesses.
Mindful Marketers will reach out and look at the broader trends in the world either what they can do to collaborate with universities who are fostering educating big data experts and data scientists and work with really high end recruiters to fill the demands for great people and grow the breadth and depth of people on their teams.
That will all lead to great breakthroughs!
The best place for people to learn more about and reach Lisa:
(Affiliate links are contained in this post - thanks for your support! <3)